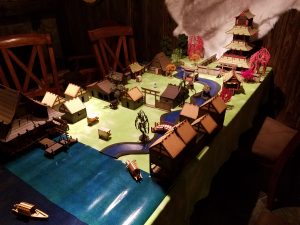 I used a bunch of props in our last wuxia game. Here are some pictures of the setup and action.
The setup from lower left to upper right is the teahouse on the lake, and blacksmith and trade area. Beyond that is the higher-class district with a couple of shrines and homes of wealthier citizens.
Beyond that is the Raging West Wind Pagoda.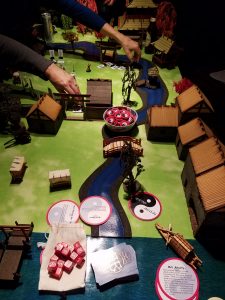 For minis I use pictures of actors and costume models. I put them in PowerPoint in a  template I made and print them out, cut, fold and then use a binder clip as a base. Simple, easy, cheap and they look pretty good. If I run out of pictures I can always write on them.
The ground cover is just a simple fleece blanket. I like to use these as they don't wrinkle and are easy to wash if you get model grass, popcorn or other debris on them.
The river is from Flames of War Battlefield in a box river series.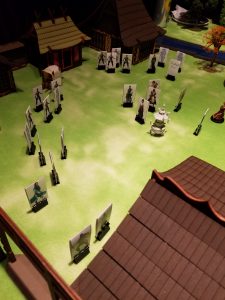 The Destiny cards and the chi tokens I had made with Game Crafter.
All of the trees are Lemax trees.
The buildings, walls, bridges, market stands, are from Renaissance Miniatures which sadly closes its tabletop RPG building line today. Today is the last day orders can be taken.
The initiative cards are the BareBones Fantasy Initiative Cards from DWD Studios . Used here of course for Art of Wuxia play testing.