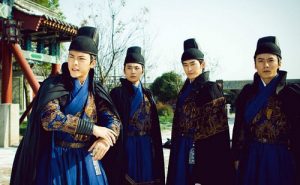 During my last bi-weekly Art of Wuxia game some bad rolls, not the best player tactics and a GM (me) bent on providing a very tough fight almost led to several character deaths. In another gaming genre, this could have gone very bad. The tropes of wuxia saved the day.
The scene: Heroes surrounded in a village by many minor NPCs (crunchies) and several normal NPCs (not crunchies). Many innocent villagers that the bad guys will kill for several reasons not important here. Only three player characters are in the current scene. The rest of the player characters will arrive in 4 turns.
The players had the upper hand for the first part of the fight but then things went bad. While they attacked the enemy, they didn't coordinate their efforts nor try to focus their attacks. Each player character was doing their own thing. Points to them for playing such individual heroes. I also think they were a little rattled as the villains were hitting hard and not holding back. One of the villains was a sorcerer with a creepy wooden backpack with a demon face inside that would cast spells. They pulled off a poser turn when things got really bad but then again failed to focus on one enemy at a time. They managed to save a few villagers but even that tactic was not coordinated so many of the villagers were still in danger. One hero managed to dish out a lot of damage to the sorcerer but instead of finishing off his target, he dove for cover. This was a reasonable tactic as this a press your luck kind of game and he wanted to reserve something for defense.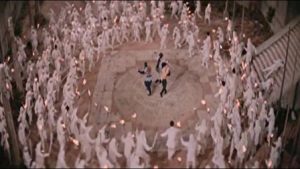 Terrible dice rolls by the players and extraordinary dice rolls by the GM changed things from bad to worse. When the villain sorcerer's turn came up, he drained the heroes of their strength leaving all but one of them incapacitated.
A dramatic moment
Now this could have played out with the bad guys killing all three player characters right then. However a) that isn't fun, and b) that isn't the wuxia way. In wuxia stories, villains much prefer to humiliate their enemies to outright killing them.  The sorcerer used a charm spell on the player character still standing and commanded him to use his sword to kill his friends. The hero, obviously struggling to resist the compulsion slowly walked over to the friend farthest away. His footsteps dragged and his whole body was stiff with the effort to resist. This forced the sorcerer to maintain his full concentration on the spell. When he got over to his friend, he apologized before running the sword through him and into the ground.
Gasps at the table, terror on the faces of the players and then silence… But then the player character who was pretending to be under compulsion (he had resisted the spell earlier and was stalling for time!) used some magic to restore strength to his friend, drew his sword out of the ground (he had faked stabbing him) and they were ready to fight together again. The villain sorcerer could not understand what had just happened. Cheers erupted in our gaming room.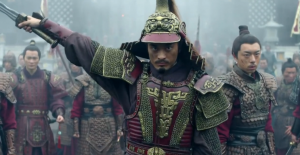 The rest of the player heroes arrived and the fight was soon over. They congratulated their brethren on a hard fight and for holding out until they arrived.
So, what could have been a real bummer turned out to be a lot of fun. Wuxia was the reason it turned out to be this way.  As GM, I used the villain tropes of wuxia to gloat and be mean without killing the characters. This allowed the characters to use their wits and try to outsmart the overconfident villains. Even when wuxia heroes are physically beaten, they still can win the day if they are smart. This is classic wuxia in practice.
We play for these moments.