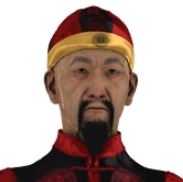 In some of my posts I've shown some game table props. I make a lot of use of paper minis. They are cheap, easy to create and easy to store.  Finding good images though is a bit of a challenge. Costume sites work well. Purchasable wuxia minis though are very hard to find if not non-existent.
So a little while back I contacted Arion Games, makers of many excellent RPG products and an astounding collection of paper minis. I have over 40 sets myself but found they didn't have any classic wuxia. So I contacted them and they were very happy to make a set. They asked me what I thought should be in the set and after a few emails they released the Wuxia Set.
Astounding!
I hope these find a place at your gaming table. I hope these are popular enough that we could get more kung fu action heroes and villains to play with.
Thank you Arion Games! Your kung fu is strong! You were a pleasure to work with.
If you like these paper minis consider getting a subscription to Arion games paper minis. Eighteen sets released so far this year!