Menomocon 2017 After Action Report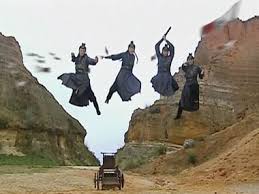 http://www.menomocon.com/about
I got to attend the second annual Menomocon in Menomonie, WI back in April. This is a small con in it's second year and is run very well. This one-day con is fun and I hope to do it again next year. I was invited to specifically run Art of Wuxia games, the head of the con having played it in a convention last year.
Menomocon is held at the local high school. Luckily, the scenarios I run are appropriate for the PG-13 crowd and up. The first game was a real blast. Players got into their characters and really hammed up the role-play.  They loved the new weapon damage rules (new from last years cons) and I had a return player in my first game and he thought the game was even better this year. He said it felt done, ready for purchase.  Well that is good to hear!
One thing about Menomocon is that it is very very small. They don't have a sign-up system for games so you have to actively recruit players. Despite a Halo LAN event I still managed to coral a few players for a partial session in the late evening. A couple of players were wuxia fans who told me straight up that they were very particular about what a good wuxia game should have.  Skepticism was written all over them.
Well, Art of Wuxia stepped up to the challenge and in no time they were all smiles having a great time thrashing bad guys and figuring out when to use their kung fu techniques. One of them even asked to start a playtest group when we were done!
Menomocon is a small but well run convention. I really hope to go back again next year and I hope you can make it there as well. The only thing Menomocon needs is more attendees. I can't say enough good words for the organizers. After running a game, I found a thank you card on my table signed by all of the staff. Nice touch!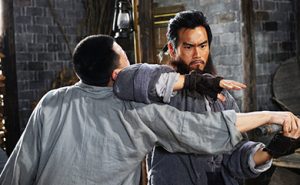 What I learned this year from Convention Games:
I've been refining the pre-gen characters and players seem to like them a lot. I'm putting them in the book as example characters and I'll use them in future adventures as pre-gens there too. Folks really hit the game running with them so I know they work. I often hear comments of, "I feel like I already know these characters."
The game works for a wide range of player ages. The game has attracted a large number of female players and they loved that the culture in the setting has female characters that were just as respected as males, NPC or otherwise. I'm going to make sure I include more of this as I revise and expand the setting this summer.
Lastly, and this has been coming for a long time, the working title of this game (BareBones Wuxia!) is going to be changed, probably at the end of my convention run this year. I like the name and it's call out to BareBones Fantasy but the abbreviation is … troublesome. [Edit – the name is now Art of Wuxia and has been changed in all previous posts.]
My next convention is Clearwater Con in Eau Claire, WI July 7-9th.
https://clearwatercon.com/